Projects
One of our key goals is to support our members in crafting their games. This has lead to some amazing projects over the years, like the ones shown below.
Pixel Soldier
by Anton Klinger
Pixel Soldier is a fast-paced game about fighting frantic bosses, while quickly dodging their attacks. Disregard gravity while walking on walls and jumping from one side of the room to another. With a minimalist yet dynamic 4-color aesthetic that doesn't distract from the pure arcade action gameplay. Do you have what it takes to beat all stages?
Letter Rooms
by Klemens Strasser
Letter Rooms is a simplistic anagram like game.
Subwords
by Klemens Strasser
Subwords is an exciting mix between a trivia and a word game. Words are split into syllables and you have to put them back together as fast as possible. The words in every level are bound to a certain topic, so you have to know about the topic to solve it. But it's no problem if you aren't that familiar with a specific topic: Simply click the bulb to learn something new!
Project L.L.A.M.A.
by Long Haired Llamas
This game (formerly known as AiRena) is a fast paced local multiplayer party game. 2-4 players can battle each other. The ultimate goal of this instant kill game is to be the first to reach 10 kills through head jumps or items. Gather your friends in front of a screen just like in the good old console times.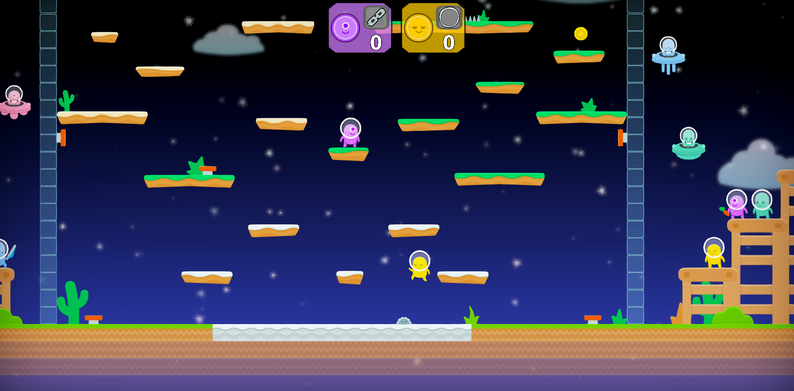 Achievements
We show off and compete with our games in international events. Some achievements our members got are:

Apple Design Award 2015 (Student) in San Francisco, CA
Styrian Game Award 2017 – Finalist
Styrian Game Award 2018 – Local Star Award
ReVersed Awards 2018 – Best Concept
Subotron Live Pitch 2018 – Finalist